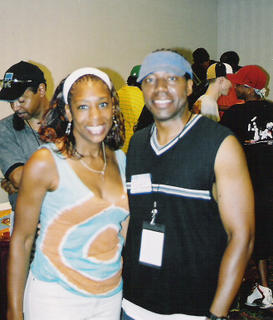 Hello people. This is ma'atology here here to give you the 411 (or 911) of the happenings in the Lou and beyond. Thanks again for those who have been reading this new blog Ive created and posted (much love to hollabackboi--and hope you kick it good in NYC). ANyway, I am going to give you a run down of some of the spots Ive attended since last time I posted. OK. I did not get a chance to go to the Destiny's Child concert (boo-hoo). I did not get my hook up tix for some reason, but from I heard DC showed their azzes last Friday at the Savvis (KAM WHERE"S THE REVIEW AT?????), and of course Beyonce did her thing. They say the highlight was the Cater to You lap dance when they brought three guys from the audience and did what they did on the BET Awards with Majic, Nelly and Hustle and Flow star terrence howard. I tried to roll up to the official VIP afterparty at Club Toxic, but I hookupthere did not show up either. This is just too much playing for me. If anyone went to this, let me know how it was...I'm hearing the Nectar Lounge is the place to be. Hollabckboi gave you the skinny on that. I attended the FREE preview of 1204 formerly Club Isis. It was still under construction, but it gives you the feel of Malibu for real(just without the palm trees that I hear will be comin thru there). There are two black marble stages on both sides of the wall for dancing, two adjacent bars and the basement area will be used for music bands to jam (kind of like the Duck Room in Blueberry Hill). They had $1 shots for the crowd. Peeps up in there were Black Rep's Ron Himes, Christian Coffield, Kameron, Brandon, Lisa May, Kadov, Kwame and Tony Thompson, Ingrid Owens, Indigo Sams, and Vokal's Yomi Martin, to name a few. The music was poppin and the barmaids were jumping up on the bar counters doing a PG striptease to the 1s amd 2s. It was too classic. My only thing is the type of music played, after 1 a.m. they started playing the KNUCK IF YOU BUCK music for the thundercats who staretd comin in there. I just hope the clientele doesnt turn into what Club isis used to be with all kinds of street thugstARS all up itn he cut. Anyway, much love to new manager Kay for the hospitality. The official opening I hear is Late August...
Next up was the Joe Torry B-Ball weekend(THE PIC THAT IM SURE YOU AW ALREADY BEFORE YOU GOT THIS FAR IS ME WITH DAWNN LEWIS AT THE JOE TORRY MEDIA LUNCHEON AT THE AIRPORT HILTON). It was OK this year. The game was held at UMSL. The only problem I saw was there wa sno STAR POWER this year. This year's biggest star ws Dawnn Lewis (yes, Jalissa from Diffrent World). Next were Rockmond Dunbar (Kenny from SOul Food) and Mel Jackson (Tripp on Living Single) The rest were...I know him/her, but what's there names. I hear the rest of the regulars (MC Lyte, James Avery, Tichina Arnold, Etc.) were either at the Balck Film Festival in Miami or the Majic Johnson B-Ball Party in L.A. The game was good as always (they did their famous pile up that was funny). It was Hollywood vs,. St. Louis. Some of STL stars in teh house were Darius Miles, King Jacob and former Rams Player Mike Jones (He got teased throughoutteh game withhsi name being exactly like the rapper--I'M MIKE JOOOOOOOOOOONES.LOL) and Joe Torry. Boxing star Cory SPinks was in the house, but he was nursing a cast on his right leg and sat on the sidelines and couldnt play. AWWWW. And what was up with Rockmond playing slap fighting with one of the male Joe Torry staffers while sitting on the sidelines of the game? Hmmm. and why wasnt Rockmond as well as Mel not playing in the game? What was really going on there? I guess they werent paid to play (they didnt show up at the media luncheon prior to the game either). Former Star Trek Enterprise star Anthony Montgomery was acting as though he was on speed or Ex the way he was all hype at the game, rolling on the floor almost showing what God gave him. Nothing cute. St. Louis won the game and they had a Dunking COntest.Not too many people stayed to see it. People had to get flossed for the AFter Party at CluB Seven. Maybe it was just me,. but I thought the party should have been at the Airport Hilton like last year because it wasnt enough room to walk around and be noticed. Club Seven is cool, but I thought it was too small of a venue to accomodate everyone. And what was up with the VIp bracelets? Only sponsors coudl have them? Peopel paid $390, general admission to get in, but VIp was exclusive. And from what Delores Shante reported in APrtyline, they were even gettin janky with peopel who had VIP bracelets who were trying to get up in VIP. Whats really going on. Too much drama for an eventthat only had one big star, Dawnn Lewis. But I digress. But I did look flyy and fab in my Batman Plus black Tee. I have new cornrolls too. I was looking too good if I do say so myself. I even ran into my girl Chrys Yvette, the ST Louis bred playwright who moved back to teh STL from L.A> to cast her tour of A Woman's Worth this fall. You had me sweatin my cornrolls off dancing near most of the eve. But it was all good. This past Sunday was the Joe Torry's Gospel Explosion at the Airport Hilton. Some of STL's gospel artsist performed like Ameriocan Idol contestant and ESTLer Deandre Perriman (good luck at the Billboard MUsic Awards this year)Praize, Karen Hylton (the highlight), Joseph George (good seein ya again) and they had some gospel mimers as well. But the crash and burn was this sista named Zina who performed. The emcee gave her this rousing introduction saying she was a member of her church and she is the one who can sing soprano, alto, tenopr or bass at their church choir. Well when she sang, it sounded like she sang all parts together. It was a HOT MESS. The celeb testimony came from Dawnn Lewis who spoke about how we need to put on our armor and fight our battles and she saaaaang. She got the crowd hype (she sang teh National Anthme at the b-ball game as well). I didnt know she can sing like that. She had them up on their feet, shout dancing and all. She is fit, too. Anyway, much love to the Platinum Group and Jacque "SLIM JIM" Land for the hook up for the Joe Torry Weekend.
Next week, I'll talk about the Kappa (NUPES) Convention here inthe Lou, the Club Toxic fashion show and other things happening in the STL.